The writings of András Cserna-Szabó

The cock of the walk in Debrecen
(Újházi broth)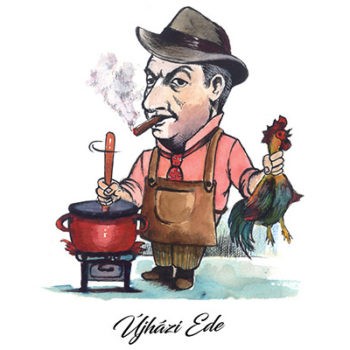 It is most recognised as chicken soup. We might blame many for this misconception, including Gyula Krúdy, the most famous Hungarian "gastro-writer". In 1932 he wrote: "Ede Újházi, whether he wanted it or not, was often obliged to consume the soup named after him. (…) Art lovers – who were still abundantly found around the act of acting – consumed the soup of Újházi, as if it were a religious ceremony." According to Krúdy, the soup was made from chicken with noodles and vegetables. Yet, the essence of the Újházi soup was that it was not made from chicken, nor was it made from hens, but from old roosters. In fact, it was not just a simple soup, but also a medicine and aphrodisiac. Whatever genius Krúdy was, we can't hold him accountable for his gastro-historiological credibility.The true origin of the story was revealed by Endre Nagy, the cabaret and chronicler of Nagyvárad, who was present at the birth of the short-lived but soon legendary "Újházi-pub" in Dohány Street. Ede was helping a fallen actor named Hatvani, to make his restaurant successful. He dedicated all his time in the kitchen in his white apron working obsessively ("he ran a race with pots and pans"). "Ujházi blossomed, flourished and he was in high spirits in there.
How the castrated sheep got in the soup of a famous writer
(Lamb Palóc soup)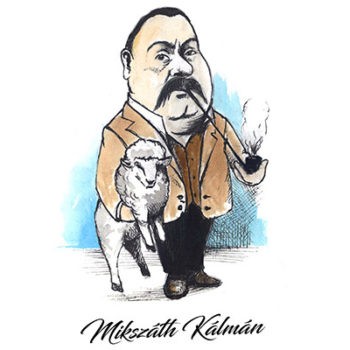 Kálmán Mikszáth, "The Great Palóc" liked his stomach quite a bit, and as the years passed, it showed more and more in his writing as well as in his physical appearance. His local venue was the Hotel István Archduke, where János Gundel, the manager, created a separate "Mikszáth room" for his famous guest. Here, the writer, with his "slow, eastern temperament," plenty of time with his friends (including Kálmán Tisza and Mór Jókai) who shared their worldly ideals and fresh anecdotes, while the manager served him Hungary's most delicious snacks. According to Mikszáth's wife, Ilonka, pork giblets, huchens, trouts, rare wild game meat, moufflons, deer, capons, partridges and great bustard birds were often put on the table. János Gundel also created the famous Palóc soup in honor of the Great Palóc: from the faeces of the faeces (castrated sheep, mainly used for fattening, the meat is better than the meat of the ram and the ewe) that combines well with green beans, dill, sour cream and other classic components.
The case of the Arab sailer with the Tartare cattle
(Sinbad's Tartare)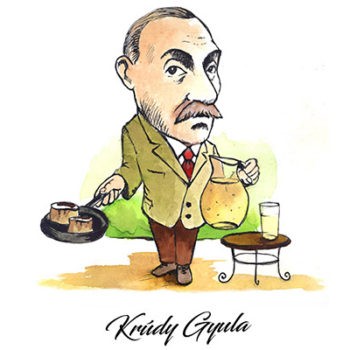 There are two gastro celebrities, two culinary stars meet on this plate: Sindbad and Tartare. Opinions are very divided regarding the origin of the story. According to the most common version, the beef was softened by the Tatars under the saddle of their horses, before they cut it into very, very small pieces (and the main rule here is not to grind it, but to cut it with a sharp knife into tiny portions). The Tatars had no time to heat (cook), so they ate raw meat. (Unfortunately this legend may sound very weak, but we do not know any better …) The consumption of raw meat is very alien to Hungarian cuisine, but no one can resist a well prepared Tartare (whether it is made of tenderloin or sirloin steak, or even salmon or vegetables). In fact, Sindbad probably would have chosen a very soft tafelspitz in a soup – or Franz Joseph (as this was his favorite dish). So why is the Tartare named after Sindbad? Of course, because of the bone marrow. From Krúdy's hero – after the immortal film by Zoltán Huszárik – the first thing that pops into everyone's mind is the bone marrow. However, on this plate, the bone is not cooked in the main soup, but the chef cuts it into round pieces and grills them.